U need to take the rock crab teleport and then u need to walk to Camelot and then idk from mye head

but look on google for runescape map that always works



Posts

: 9


Join date

: 2010-11-27



I notice this post before I started my adventure, so I decided to search for this lost "Agility Arena". No worries I found it but you might be disappointed at what you see.
Will you head to falador then you enter the garden and you go all the way down to the house filled with npc. You will see some useful npc to train your non-combat skills. You will spot a npc named "Pirate Jackie the Fruit". By pressing on her you will teleport to the agility arena.
~Note~
It looks like the developer has not yet set out the tiles for this area of the map, for that. This agility arena will look empty with only two visible obstacles which seem to be useless to the skill.
[img]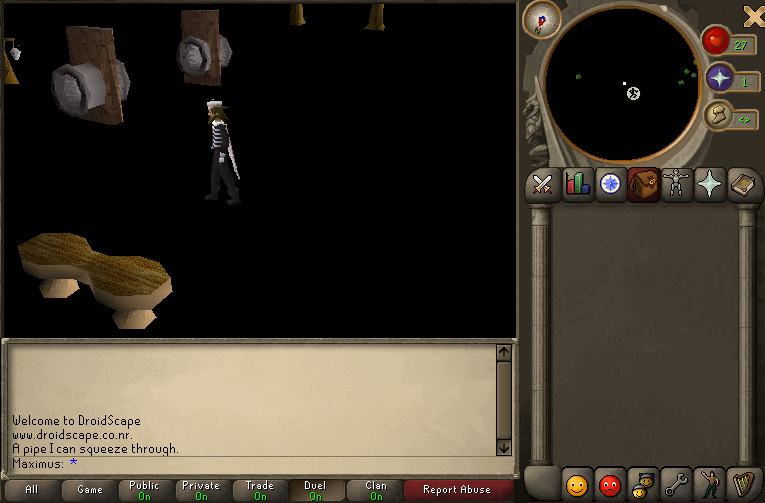 [/img]



Posts

: 8


Join date

: 2010-11-28


Age

: 31


Location

: New york



Did you try the barbarian agility arena, or the one in mems wild?



Posts

: 23


Join date

: 2010-11-28


Age

: 24


Location

: Edmonton, Alberta, Canada



See this is what i thought, running around finding places to train, but it brings the same problem, the only places that aren't really affected by this are largely build up areas and the sea, and if you don't get your bearings right then the sea will appear in all directions around you --> STUCK.
i thought a problem would arise when i first loaded the client, it gets stuck at 'maps - 83%' and it can't find the rest of them!

Well thats my view any ways.
hope the glitched floors can be sorted out soon! I'm hoping to catch a game of gnome ball y'see :O
Envii



Posts

: 22


Join date

: 2010-12-02





Similar topics
---
Permissions in this forum:
You
cannot
reply to topics in this forum